OUIBUS Christmas deal : save 5€ on your next trip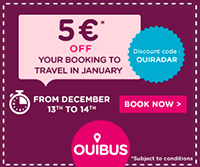 You don't know what gift to offer to your loved ones? Have you thought about cheap trips by bus?

Find the ideal bus journey on busradar.com and get the a OUIBUS 5€ discount on bus travels booked on Tuesday 13. and on Wednesday 14. December only. One more amazing gift to put under your Christmas tree.

It feels like it's already Christmas ! So here is how to benefit of this discount :
OUIBUS has thought of you and Christmas. You could, for example, offer :
In order to get 5€ off of your booking of OUIBUS bus tickets, on Tuesday 13. and Wednesday 14. December, you just have to use this voucher on your order : OUIRADAR


This voucher is only valid on the bus trips taken between the 4. January and the 31. January 2017 and searched and found on busradar.com.
Created on 12/12/2016